Garage Door Opener
Back To Our Services
We proud ourselves in providing the most professional garage door service in the area as well as being the number one choice for garage door repair. Our customers are our greatest accomplishment, as we have both met and exceeded customer expectancy in this area and are proud to service each and every one of our customers. Perhaps the greatest skill we have is with the garage door opener. These are the devices that power the opening and closing mechanisms of your garage door. They are used every day, and go under a great deal of stress throughout their life spans. For that reason they often need repairs or under extreme malfunctions a total replacement. There are three different kinds of garage door opener: belt drive, screw drive, and chain drive. We can repair or replace any kind of these with no problems. We can install openers from any of these popular brands: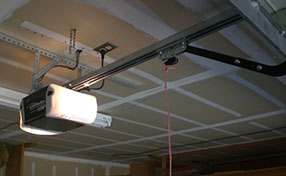 Genie
Chamberlain
Liftmaster
Sears
Craftsmen
Marantec
Garage door openers troubleshooting
Openers help you open and close your door and remotes help you to do it from a distance
With a remote you no longer have to go out of your car to open or close your garage system. Rather you can do it from your car. These are the top brand remotes you can get from us:
Clicker
Genie Intellicode
Multi Code
Liftmaster security +
Our installation and replacement service for garage doors make us the best choice for our customers. You can have us to install or replace any part on your garage system. Our garage door contractors are also expert at garage door window replacement and repair. The types of garage doors we keep on a general level are as listed:
Wooden
Craftsmen
Aluminum
Steel
Glass
Broken springs cause a lot of problems. Extension, torsion and galvanized – all types of springs start causing problems after a period of time. Our technicians are expert at handling these and they are always equipped with springs in case you require a new one.
Garage door repair is one of our best services as well as highest demand. There are many different types of garage door repair services that we offer such as:
Cable that has been snapped
Repair tracks that has been bent
Cables that became loose
Cable that that became disconnected from the drum
Cables that has been broken
Replace tracks
Of course, we can provide virtually any kind of repair work or garage door servicing imaginable for your garage door. Our professionals at Garage Door Repair Lombard take care of our customers.
We are your one stop for all kind of repair you may need with your garage system. No matter what type of or made of which company your garage door is, we can handle it. Our technicians are certified to handle all types of garage doors. Some of our services are:
Rubber at the bottom of the door
Emergency release that has been broken
Weather strip
Door that went off track
Replace parts of the door
If you ever need garage door maintenance / adjustments make sure you check out our outstanding line up of garage doors maintenance services. We can maintain any kind of garage door to no ends, and we even offer regularly maintenance lubrication to ensure the best operation of your garage door. Our garage door professionals are the very best at what they do, garage door repair.